Anxiety rolled through Norah DeYoung on Thursday afternoon as she awaited her competition at the Mid-Willamette Conference track and field district meet.
The South Albany senior had done her best to get past a terrible day at the same meet a year earlier, also at West Albany's Coach Jim Luster Track complex. But that setback had also been her prime motivation ever since.
DeYoung entered the 2022 district meet having finished first or second in the girls discus in every league meet. But she was far from her best at the end of the season, had just one of three preliminary throws land in the sector and finished 16th.
On Thursday she put that far in the rearview mirror with a winning toss of 119 feet, 8 inches, a mark just 11 inches off her personal best set last month that has her fourth in the 5A classification this season.
"Getting here was nerve-wracking but I was also like, 'I have something to prove now,'" DeYoung said after the win, locking up her first state meet berth. "It was just a disappointing day. But I'm back here. It's been on my mind all season. So winning every single league meet already was a big deal for me. So I was like, 'I already have the confidence.' It was a big deal that I got to do it today, but it was a big hurdle to jump."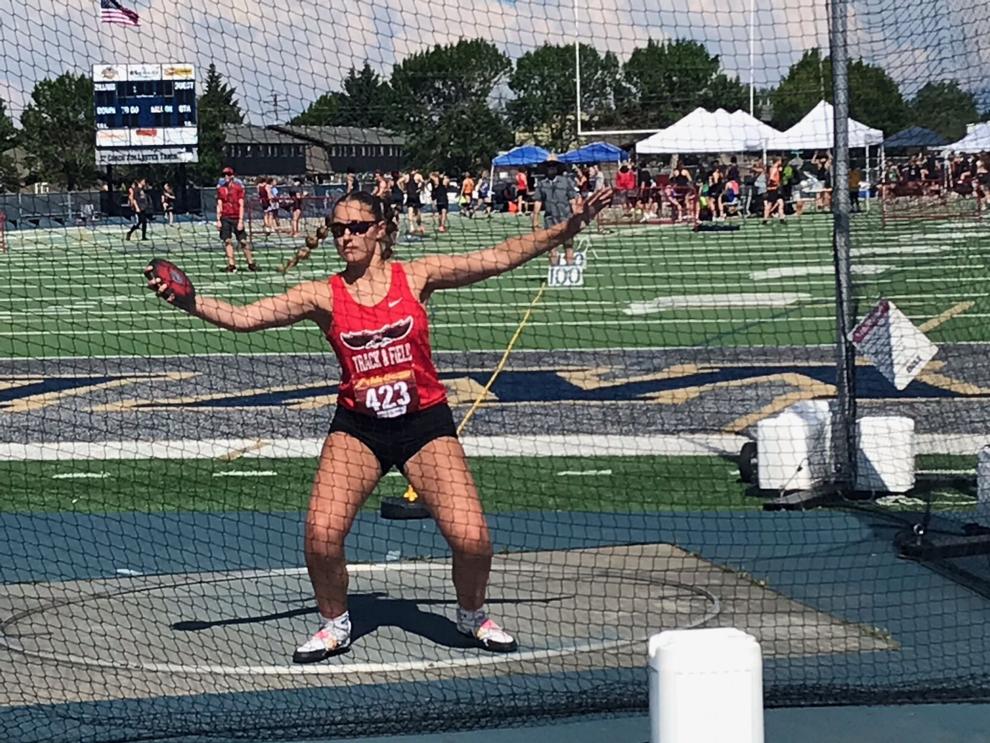 DeYoung's first throw Thursday landed at 110-1, which came as a big relief after the way last year went. Her first of three throws in finals was her best and gave her a state-qualifying mark regardless of where she placed.
Throughout the discus competition, DeYoung could be heard cheering on and supporting the other throwers.
She said she doesn't like being a competitive person but instead enjoys being friendly.
"So it's nice to do it with my friends and just throw for fun. I think that makes it way easier on us," said DeYoung, a South Albany team captain. "I've always been the motivator, I feel like. (Teammates) gave me the nickname "The Glue." They're like, 'next year we're not going to do anything without "The Glue."' I'm just proud to be part of such a supportive team."
The top two placers in each event qualify for next week's state meet at Hayward Field.
Athletes can also reach the state meet with qualifying marks and times or by receiving a statewide wild-card berth awarded to those who don't finish in the top two at their district meets.
Five wildcards are awarded at the 5A level, one at the 4A and 3A levels and four at the 2A and 1A levels.
The state meet for 3A, 2A and 1A classifications will be held May 25-26 and for 6A, 5A and 4A it will be May 26-27.
The Mid-Willamette meet continues Saturday at West Albany with events beginning at noon.
Crescent Valley finished the day with meet records in both 3,000 finals.
Emily Wisniewski broke the 5A girls all-time record at that distance for the third time in less than a month with a win in 9 minutes, 38.54 seconds. She moved from seventh to sixth on the Oregon all-time list.
Teammate Sasha Kelly was second (10:46.39) and Corvallis' Hannah Middleton third (10:49.08).
CV's Kanoa Blake won the boys race in 8:50.06. South Albany's Wyatt Sparks was third in 9:21.69.
West Albany senior Garrett Lee cleared 14 feet in the boys pole vault for the fourth time this season with a win and a new meet record at 14-1.
Lee, who has cleared 14-6 to lead 5A this season, defeated Silverton's Joel Rush, second on the 5A season list, after the two were the only competitors left. Both cleared 12-6, but only Lee made 14-1, the next bar, which he accomplished on his second try. Lee then missed three times at 14-9.
Lee said he was excited to win but also hungry for a state title.
He said his 14-6 clearance in a May 3 meet at Woodburn "was kind of a sloppy jump. The form didn't feel good on it. So based off of that jump, I think I could jump 15, 15-6."
Lee also has the top 5A boys time in the 110-meter hurdles at 14.68 seconds. He easily qualified for Saturday's final in that event as well as the 300 hurdles, where he was seeded second in the conference coming into the meet.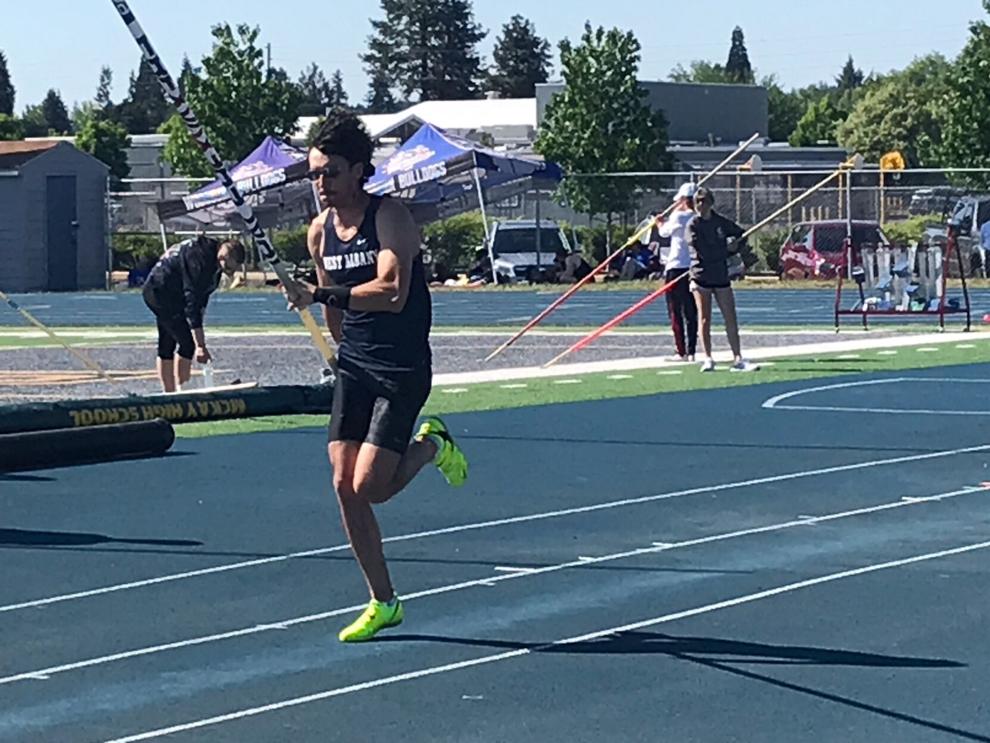 "I credit that to the people I surround myself with, my family, my coaches, my friends. They all push me to do better and are really supportive of me," Lee said.
Another motivation is college. Lee wants to compete at an NCAA Division I schools. He's received scholarship offers from DII, Division III and NAIA schools and talked with some DI universities.
"If I want to go to a good DI school I think I need to do a little better," Lee said. "That's a big motivating factor, that I'm not to where I need to be yet."
Corvallis senior Cole Seaders continued what has been a season of drastic improvement over last year with a win in the boys discus at 140-8.
Seaders, whose 2022 best was 123-4, has now had throws of past 140 feet in four consecutive meets and seven competitions in all this spring. He leads the 5A classification with a mark of 148-7.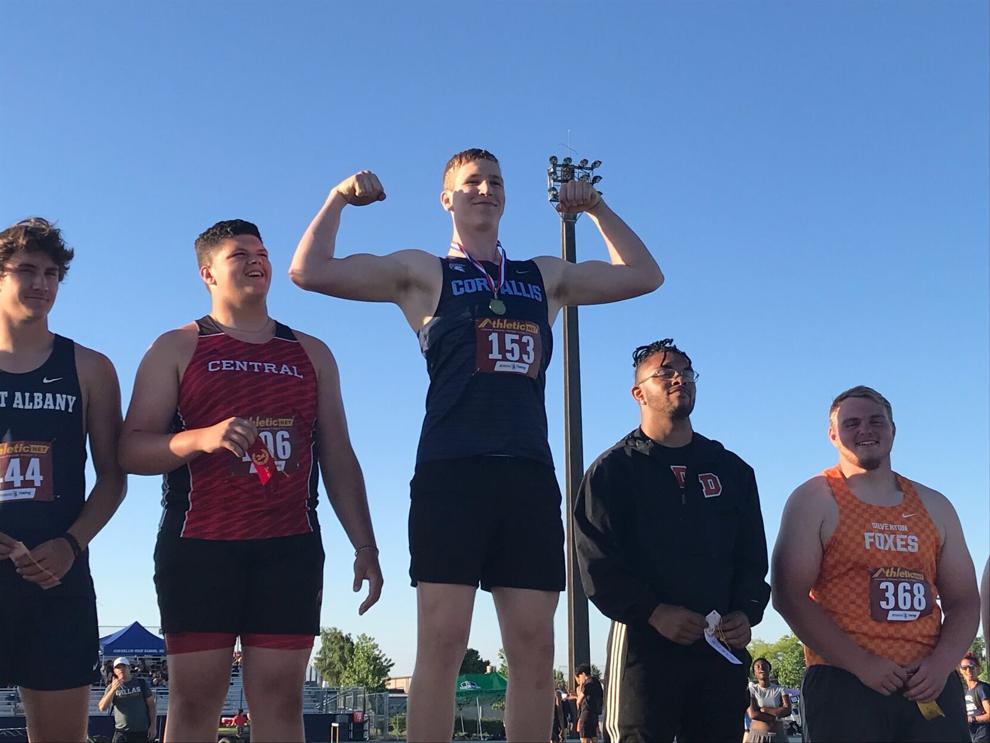 Lots of consistent practice and hard work over the summer in preparation for basketball season, plus the assistance of the Spartans' track and field staff on his throwing technique, have helped Seaders produce big marks.
He wanted to be able to move other big guys around on the basketball court, and it's helped him in the discus ring as well.
"A lot of it is the lifting and working out and getting stronger and improving in the offseason," he said. I just wanted to be bigger and stronger so I could do well in my last season."
Seaders has been pushed by teammate Aydan Schiveley, who finished sixth at 124-5 Thursday but has a season-best mark of 141-2.
"That was really nice, because he would go above me and I would be like 'I need to get better and move forward' and we'd kind of flip-flop," Seaders said.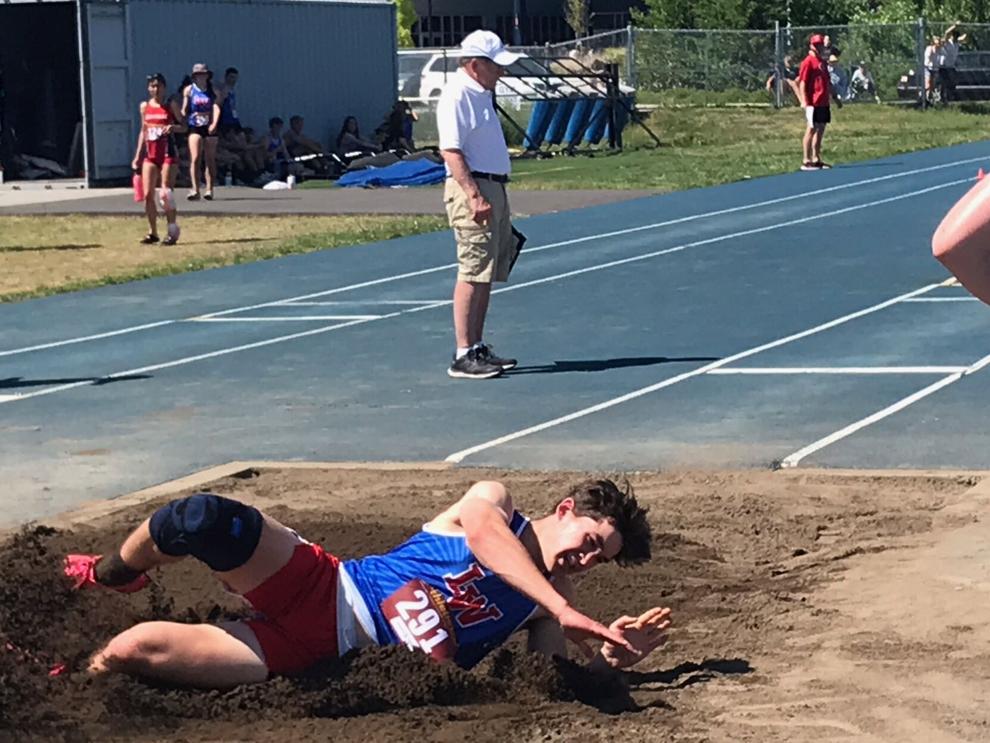 In the girls long jump, Lebanon freshman Addilynne Pickles had trouble getting on the board but made her best one count.
Her leap of 16-2 on the final attempt in preliminaries stood up for second place and a state berth.
"I've been working a lot in practice and I've been working on my height. So I think I'll be good," Pickles said, looking ahead to next week.
She qualified for Saturday's 400 finals and also runs on Lebanon's top-seeded 4x400 relay and second-seeded 4x100 relay, which also have finals Saturday.
This is only Pickles' second year of competing in the sport.
"So I wasn't expected to be in so many events and be pretty good in them," she said. "It's really fun. I enjoy it a lot."
In the boys long jump, Lebanon's Jackson Parrish was second at 21-6½. Truman Brasfield of Corvallis finished third but bettered the automatic state-qualifying standard by two inches with a mark of 21-5.
West Albany's Alexa McGowan was second in the girls pole vault (9-0).