Haley Blaine, Haley Bland, Truman Brasfield, Norah DeYoung, Pharalynn Dickson, Natalie Dunn, Janice Hellesto, Garrett Lee, Anneka Steen, Aurora Torresi, Lillian Weiss and Emily Wisniewski.
All of the above area high school athletes — and maybe a few more — have shined in their events and put themselves in position to have confidence that a 5A or 4A title is within reach when the OSAA track and field state meet gets underway Friday at Hayward Field in Eugene.
Dickson, a South Albany freshman, has the top 5A girls times of the season in the 100-, 200- and 400-meter distances. She also cranked out a 55-second, come-from-behind 4x400 relay leg to give the RedHawks the win at the Mid-Willamette Conference district meet and No. 3 time in the 4x400 relay this spring. In the process, she set three personal bests and two meet records.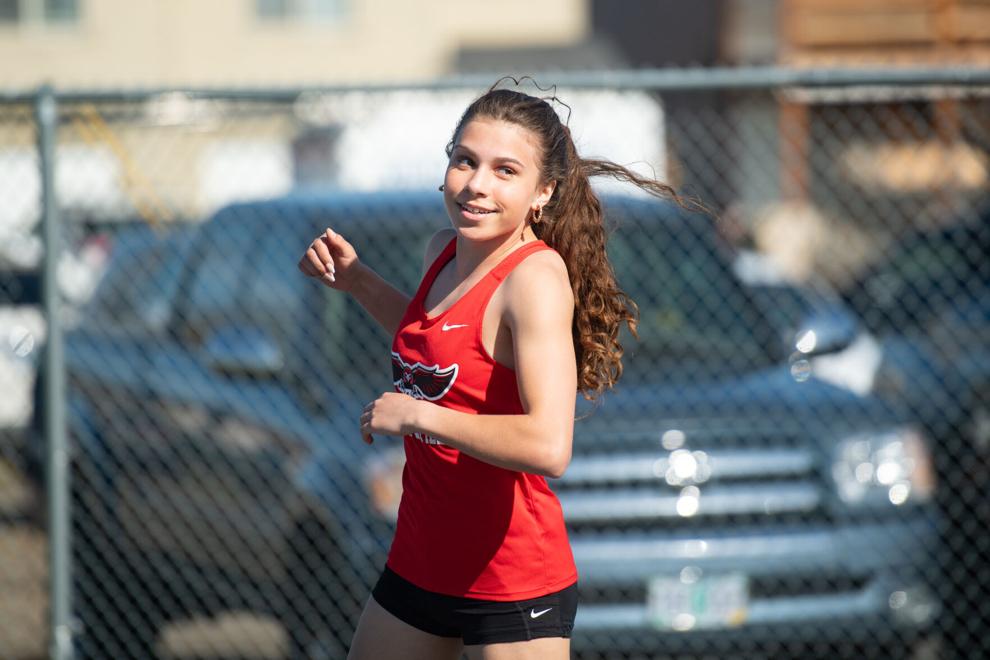 Having successfully traversed a four-event schedule at the district meet gave Dickson confidence that she'll be able to handle the stress of the state meet.
"It did, but at the same time I've got to know that other people are also putting in work as well and run my race," she said. "I'm just going to go out there and strive to be better. Obviously it's going to be tough with that other competition, but it's going to be good for me."
South coach Jeff Louber said it's been "amazing" watching his star sprinter this season.
"It seems like she PRs every single meet and every event. It's just amazing. I've never coached an athlete like that," Louber said, adding that he was a big surprised to see Dickson set a new 100 personal best and equal her 200 PR in the district preliminaries despite a conversation about trying to take it easy. "She just has one speed. She's such a great competitor."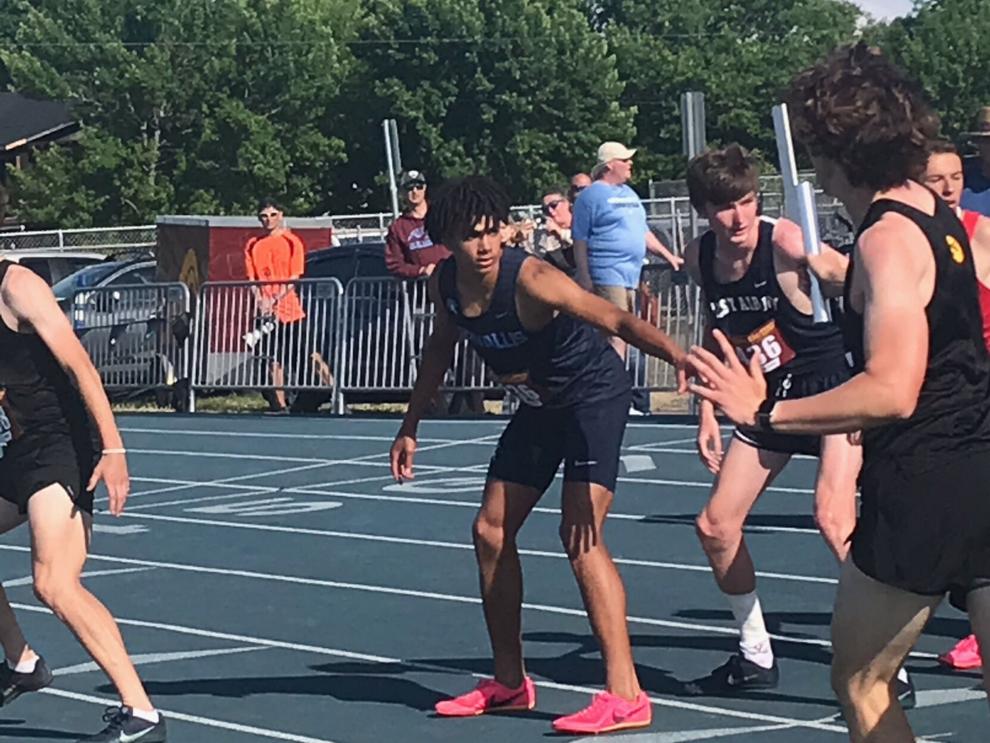 Blaine, Wisniewski and Weiss all got a head start on state-level competition at the district meet, held at West Albany.
Blaine, a West junior, held off Weiss, a Crescent Valley freshman, in the 800 final. Blaine and Wisniewski continued their friendly rivalry in the 1,500, with Wisniewski getting the win this time. Weiss was third, and all three went under the previous meet record.
Blaine, the 2022 district and state 1,500 champion, said she doesn't look at her competition with Wisniewski as a rivalry.
"We're both really competitive at running and work hard for it," she said. It's kind of fun to have someone in the same district that's in the same kind of area (time-wise) that you are."
Wisniewski, the defending 3,000 state champion and two-time cross-country state winner, is the 5A 3,000 all-time record-holder and also tops the classification's 1,500 time this season with significant PRs in both.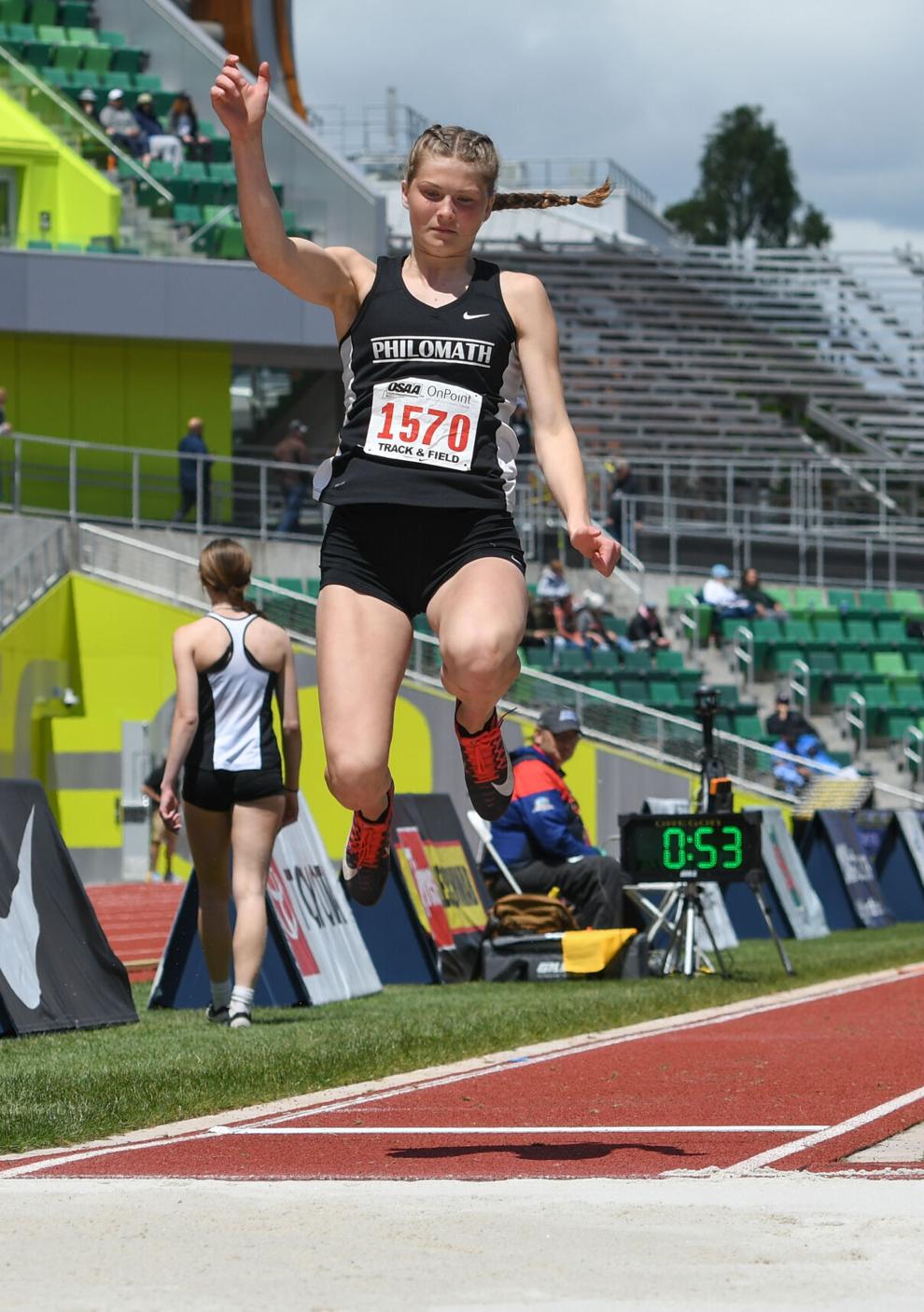 She credits her improvement in part to developing a stronger finishing kick.
"It's been good this year. I'm excited that I have that, having that extra boost at the end, especially when someone's right behind you," Wisniewski said. "I think that's helped a lot, just feeling strong on the last lap overall."
Weiss has marveled at Wisniewski while training with the distance star.
"It's crazy being on the same team as her, always seeing her succeeding and doing well. I think it helps our whole team," she said. "I learned (from her) to always go in and do your best and put yourself out there."
Crescent Valley, the defending 5A team champion, and South Albany are tied for fourth in a form chart using season-best times and marks. The top four teams get trophies.
Blaine is seeded second in the 1,500 and fifth in the 800 based on season results. Weiss is third in the 800.
Lebanon's 4x100 relay team of Taylor Roles, Addilynne Pickles, Hayden Knutson and Alyse Fountain is seeded third. Morgan Jones, Tatum Trudell and Klaire Bitter join Dickson on South's 4x400 team.
Torresi, a Lebanon senior, and Bland, a Crescent Valley sophomore, are third and fourth, respectively in the javelin. DeYoung, a South senior, is fifth in the discus.
5A boys
Corvallis sophomore Truman Brasfield wasn't sure how his season would go. But it started out with a personal best in the 300 hurdles.
He's since beaten that PR four more times and is a strong contender for a state title.
Brasfield finished fourth in last year's district meet and placed ninth in state preliminaries, narrowly missing a finals qualifier in 42.73, then his PR.
Brasfield, who ran a personal-best 40.46 in the district prelims last week, held the 5A season lead for about a month before Summit's Benjamin Strang ran 40.21 at the Intermountain Conference district meet last weekend.
"I definitely think there's more out there. Each race, I find something to improve on and try to get better each race," Brasfield said. "I need to work on not feeling disappointed with my last races. I've got to know that I'm only a sophomore, I have room to get better."
But he added that he believes he's on track to reach his goals, which include being the best he can be, running a sub-40 time and winning state.
Brasfield will compete in the long jump at state as well after taking third at district at 21 feet, 5 inches, passing the automatic qualifying standard by two inches.
West Albany senior Garrett Lee has made significant strides to become the 5A season leader in the 110 hurdles and pole vault.
He's moved his hurdles personal best from 16.00 to 14.68 in the past year, and in the vault he's cleared a bar three feet higher and is now at 14-6. He won district titles in both.
Lee is on a redemption tour of sorts after false starting in the 2022 district preliminaries as the conference favorite in the event.
"I didn't think I'd be running as fast as I am right now," he said. "I think I've really surpassed what I thought I could do and now I'm just hungry for more."
Fourth at state in the 300 hurdles last year, Lee will compete in that event at state as well as the 4x100 relay in addition to the 110 hurdles and pole vault.
South Albany's Jesse Bass is seeded second in the shot put based on season-best times. Corvallis' Cole Seaders is third in the discus.
Crescent Valley's Kanoa Blake is fourth in the 1,500 and fifth in the 3,000. Lebanon's Jackson Parrish is sixth in the triple jump.
4A girls
The Philomath girls can expected to be seen at or near the top of the awards podiums many times over this weekend.
The Warriors won last year's team title and are the favorite to repeat based on a form chart using season-best results.
Philomath tops the chart at 83.5, followed by La Grande (72) and Scappoose (37)
Anneka Steen, first in the high jump, is the only Warrior to top a 4A season list. But she's got plenty of company.
Janice Hellesto is seeded second in the long jump and third in the 100 and 200 and Natalie Dunn is second in the 400. Philomath also has third seeds from Adele Beckstead in the 3,000, Ahnika Tryon in the javelin and Ellie Morton in the long jump.
The Warriors' 4x100 relay (Ellie Morton, Dunn, Ingrid Hellesto, Janice Hellesto) and 4x400 relay (Steen, Ingrid Hellesto, Dunn, Janice Hellesto) are both second on the season lists.
4A boys
The Philomath boys are also chasing a trophy for a top-four finish. The Warriors are fourth in the form chart based on their results this season, but three teams behind them are all within 10 points.
If it comes down to the season-ending 4x400 relay, Philomath will be in good shape. The Warriors' foursome of C.D. Nuno, Simon King, Nixon Mooney and Warwick Bushnell has the fastest 4A time this spring.
Micah Matthews is seeded third in the 110 hurdles and tied for third in the high jump. He's also competing in the 300 hurdles and pole vault.
Ben Hernandez is seed third in the 1,500 and fifth in the 3,000.
Mateo Candanoza is fourth in the 3,000. Simon King is fifth in the 800 and Bushnell seventh in the 400.
Sweet Home's Mason Lopez has the No. 3 javelin mark this season.