Here's a recap of Thursday's NCAA basketball tournament Sweet 16 action, including game stories, the updated brackets, a photo gallery of top pics and more. Plus, a look ahead to today's action:
---
SWEET 16 COVERAGE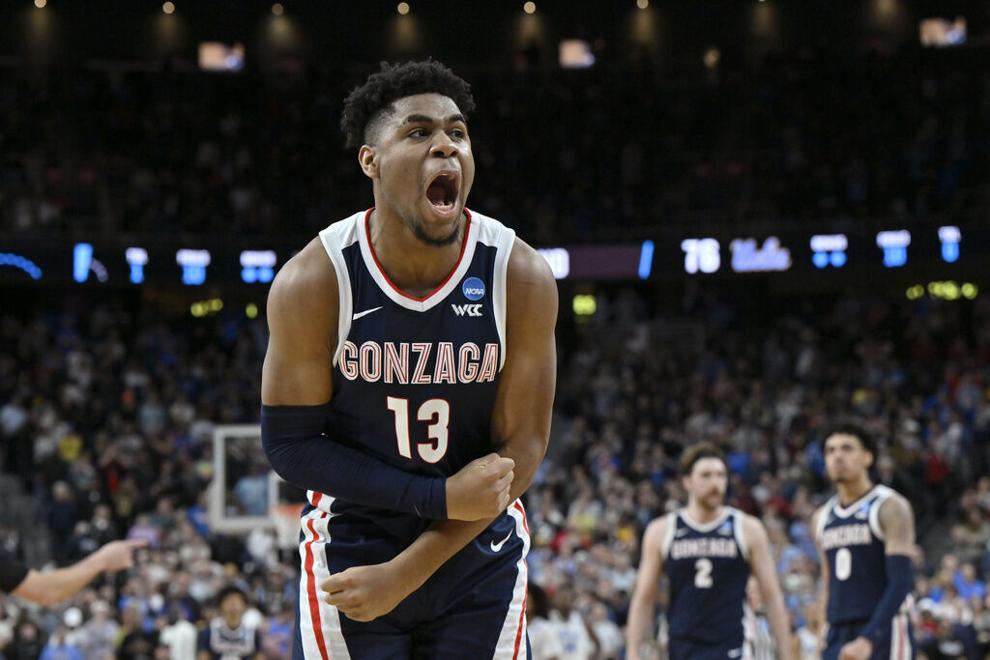 Gonzaga beats UCLA 79-76 in Sweet 16 on Strawther's shot
LAS VEGAS (AP) — Gonzaga and UCLA played one NCAA Tournament game that left the Zags' star player bawling, and another game that stunned the Bruins.
Add another to the list. Maybe the maddest one in March yet.
Julian Strawther hit a 3-pointer with 7.2 seconds left to answer a 3-pointer by UCLA's Amari Bailey, lifting Gonzaga to a wild 79-76 win over UCLA Thursday night in the Sweet 16.
"It's moments like that you can't make up," said Strawther, a Las Vegas native. "Those are literally the moments you dream of. To even make a shot like that in March Madness and just to be back home in Vegas is like the cherry on top." Read the full story: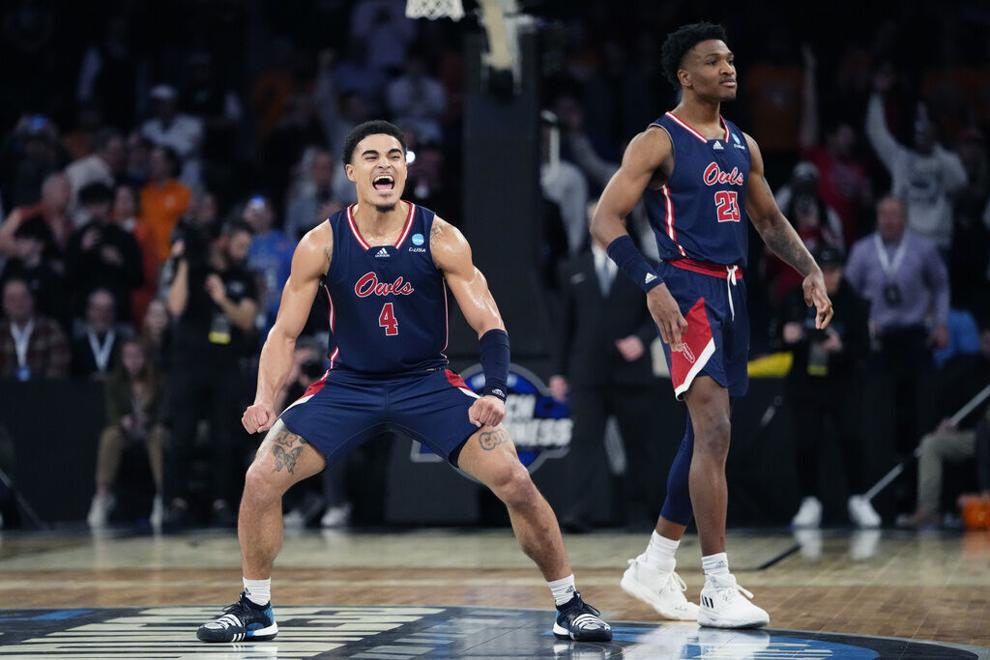 Florida Atlantic makes first Elite Eight, bounces Tennessee
NEW YORK (AP) — When the horn sounded on the greatest victory in the history of Florida Atlantic athletics, Nick Boyd and Bryan Greenlee hopped onto the press row table to celebrate.
Instead of going to the locker room, some of the Owls players made their way up into the stands to sing "New York, New York" with their fans.
The Boca Raton, Florida-based school that has only been competing in Division I for the last 30 years, and had just one previous appearance in the NCAA Tournament, is now a victory away from the Final Four. Read the full story: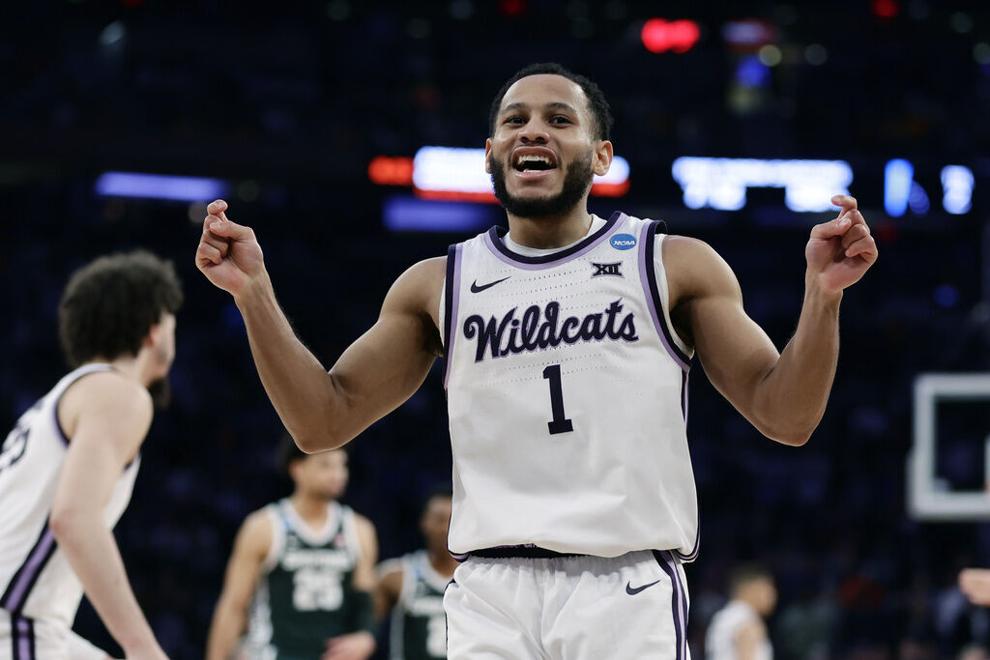 Nowell breaks tourney assist record, lifts Kansas St. over Michigan St in OT
NEW YORK — Markquis Nowell broke the NCAA Tournament record for assists in a game with 19, his last two on spectacular passes in the final minute of overtime, and Kansas State beat Michigan State 98-93 on Thursday night in a Sweet 16 thriller at Madison Square Garden.
Playing in his hometown and fighting through a second-half ankle injury, Nowell found Keyontae Johnson for a reverse alley-oop with 52 seconds left in OT to give the Wildcats (26-9) the lead for good in this back-and-forth East Region semifinal. He then threw an inbound pass to Ismael Massoud, who knocked down a jumper with 17 seconds left for a 96-93 lead.
With Michigan State needing a 3 to tie, Nowell stole the ball from the Spartans' Tyson Walker and drove for a clinching layup at the buzzer. Read the full story:
UConn a step from Final Four after 88-65 blowout of Arkansas
LAS VEGAS (AP) — After UConn lost as a 5 seed to 12th-seeded New Mexico State in the first round of last year's NCAA Tournament, Huskies coach Dan Hurley told his core players they would be back on this stage.
Not only would they return, but Hurley said he would surround them with players capable of taking them deep into March.
They are certainly doing that.
The Huskies' 88-65 victory over Arkansas in the West Region semifinals on Thursday night was their third by double digits in as many games. Read the full story:
THE BRACKETS
THURSDAY'S SCORES
No. 3 Kansas State 98, No. 7 Michigan State 93 (OT)
No. 4 UConn 88, No. 8 Arkansas 65
No. 9 Florida Atlantic 62, No. 4 Tennessee 55
No. 3 Gonzaga 79, No. 2 UCLA 76
TODAY'S SCHEDULE
All times Eastern
No. 1 Alabama vs. No. 5 San Diego State | 6:30 p.m. | TBS
No. 1 Houston vs. No. 5 Miami | 7:15 p.m. | CBS
No. 6 Creighton vs. No. 15 Princeton | 9 p.m. | TBS
No. 2 Texas vs. No. 3 Xavier | 9:45 p.m. | CBS
No. 4 Villanova vs. No. 9 Miami | 2:30 p.m. | ESPN
No. 2 Utah vs. No. 3 LSU | 5 p.m. | ESPN
No. 2 Iowa vs. No. 6 Colorado | 7:30 p.m. | ESPN
No. 5 Louisville vs. No. 8 Ole Miss | 10 p.m. | ESPN
PREVIEWING TODAY'S GAMES
PHOTOS OF THE DAY